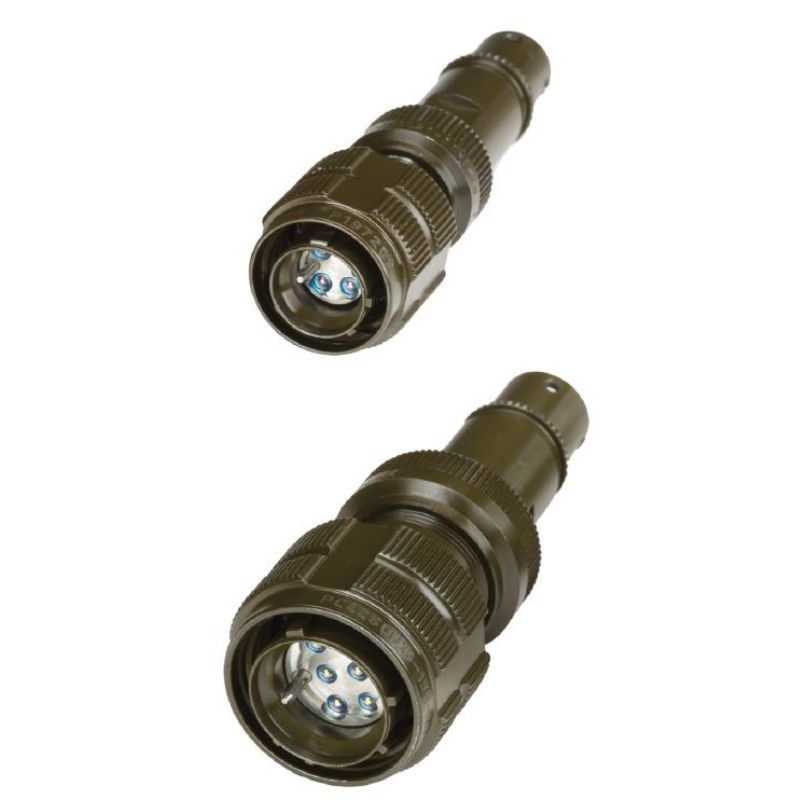 D38999 Series III connector
The OPTOKON D38999 Series III derived Expanded Beam fiber optic connectors have been designed for use in the most demanding civil and military electronic equipment interface applications. The connector features the generic MIL-DTL-38999 Series III tri-start thread and one-turn self locking anti-vibration coupling mechanism making it ideal for use in vehicle, aircraft and naval environments. Plug and receptacle connectors are available with straight or 90º back-shell options and a choice of shell materials including Aluminum alloy (Zinc Cobalt, Olive drab), Aluminum alloy (electroless Nickel plated), Nickel Aluminum Bronze (shot blast, non-reflective) and Stainless Steel (passivated). Receptacle connectors are available with jam-nut or square-flange mounting and strain relief for zip-cords or tactical cable.
The connectors are terminated using an epoxy-polish ferrule termination process with standard fiber optic termination tools and equipment. The terminated ferrules are simply inserted into the Expanded Beam housing and fixed in place via a spring and cover-plate.  Ferrule alignment to the lenses is achieved automatically by the unique optical arrangement.